Alpha Phi Omega Student Book Exchange :: 1951 - 2004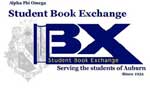 In the fall of 1950, the Junior Class Council proposed that a student run, non-profit book exchange be set up on Auburn's campus. This way, students could determine the prices that their books would sell for and challenge the commercial bookstores to buy and sell their books at more reasonable prices. Delta took on that responsibility and the Alpha Phi Omega Student Book Exchange was founded on March 13, 1951.

The Student Book Exchange served Auburn University student's for more than 50 years and finally closed it's doors in 2004. During it's operation, the BX kept the same founding principles on which it was created. It was a service for the students by the students.